Backsplashes today are more prevalent and personalized than ever. Backsplashes utilizing decorative tile designs are a popular way of adding interest to the kitchen.
Whether creating a formal kitchen or a family-centered one, the backsplash is a great way of adding, color, life, and interest to space. By finishing off the kitchen design with a backsplash comprised of decorative tiles, capturing these elements is done with ease.
Pull Backsplash Ideas from Nature
One of the most wonderful things about decorative and handpainted tiles is the fact that they are available in so many different designs and themes. Houses that are surrounded by woods, can utilize this natural backdrop, and bring it into the kitchen, by creating a border of tiles painted with pine needles, running through a soft colored subway tile field, and finished with a mural of pine trees, comprised of 6" tiles pieced together to form the design, behind the cooktop.
Houses on a lake or pond can use images of herons, dragonflies and marsh grass to highlight the space. By capitalizing on what already makes the house special, these types of backsplashes will add new meaning and interest to space.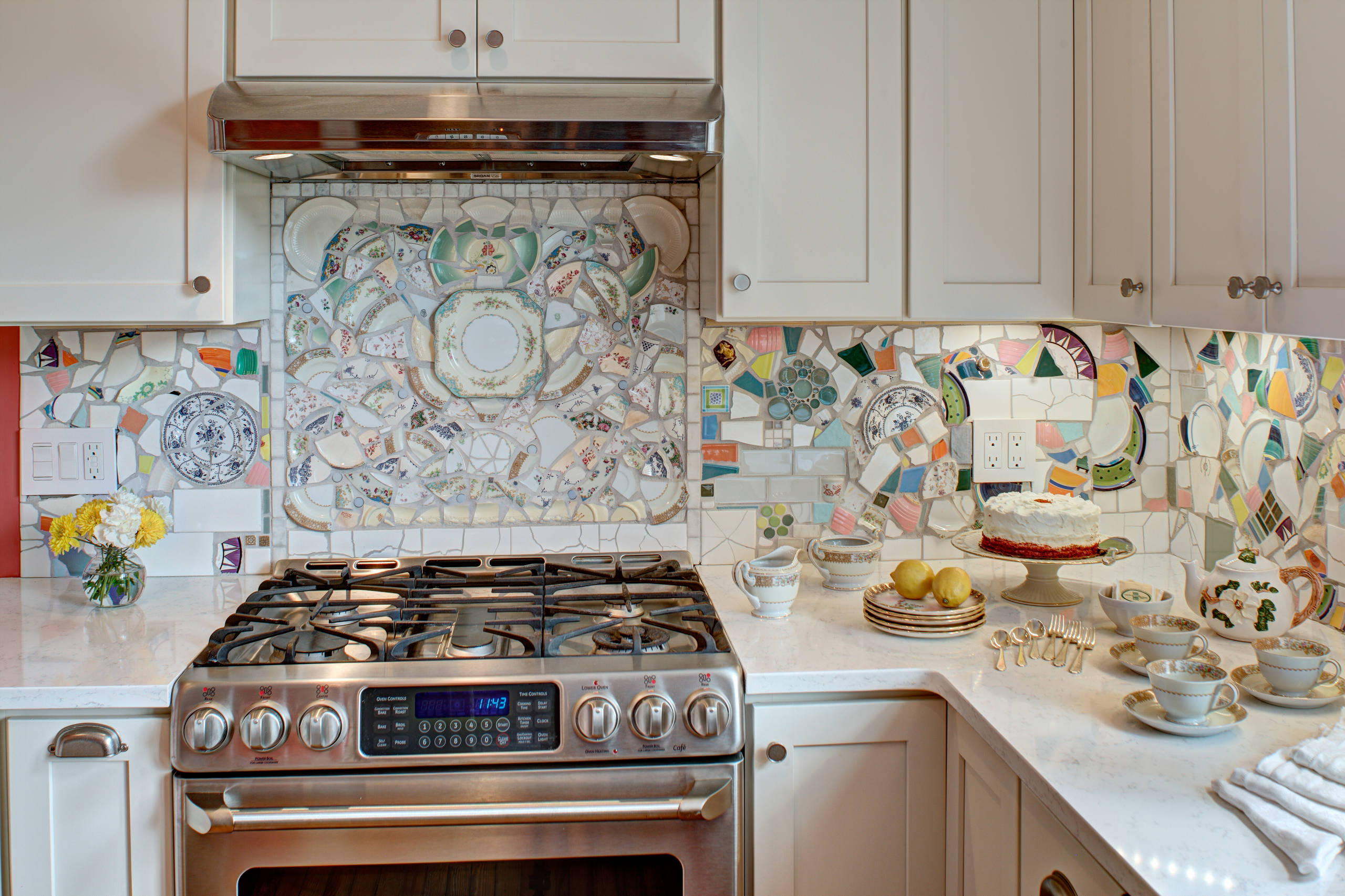 Family Designs Make a Kitchen Fun
If the kitchen is the heart of the home and family, then try making the backsplash a family statement and design. Take interests and favorite colors from each member of the family to create a unique and personal backsplash. Musicians in the family can represent themselves with tiles painted with musical notes, or violins. Gardening enthusiasts can use tiles shaped like plants or flowers, and family members can combine their favorite colors into a decorative ceramic mosaic to border the kitchen.
An alternative idea would be to represent the family through tiles shaped or painted like animals. Has dad represented as a black bear, and mom as a bird, while the children each choose their favorite animal to display? Scatter these tiles through a field made up of a patchwork of different colors so that the decorative tiles blend in and surprise the viewer from time to time.
Repeat Elements in the Kitchen Design
Decorative tiles not only represent specific objects, but they can also form patterns and shapes. If there is latticework on the kitchen windows, consider tiles of lattice design for a framed area behind the stove. If wine is a passion, and wine coolers and racks are part of the kitchen, then use designs of grapevines running throughout the kitchen to highlight them.
Some tile companies will also reproduce a design in tiles if one is sent to them. So if there are antique plates displayed on shelves in the kitchen, try having the patterns of them reproduced into a scrolling border that will run the length of the backsplash.
Decorative tiles are fueled primarily by personal taste, so be sure to include elements that will be loved for years. If wondering how many decoratives to use before potentially overwhelming a space, try clipping pieces of colored construction paper, or have line drawings of the tiles made to scale and tape them to the backsplash at the desired areas. Live with them there for a while to be sure that there aren't too many or too few.
Be sure to take a piece of the counter and a sample of the cabinet wood along to tile showrooms to select the backsplash. The design should be harmonious with other elements of the kitchen, so be sure to take them into consideration when making choices.
Above all, when designing a backsplash with decorative tiles, be sure to have fun and let the imagination soar.